A lot of action off-field in the NRL has overshadowed the fact that Canberra Raiders fans have discovered an alternative to Viagra – watching their team put on 60 points over the Tigers.
WOOOOOO boners aplenty in the nation's capital this week, my friends.
Aw yeah.
The NRL has declared referees to be official enemy #1 to all teams, but most specifically the Roosters, who keep getting penalised for breaking the rules of the game. It's a shocking way to treat the team, and both of their fans are very upset by it. Then again, if I'd just lost to the Dragons, I'd probably be looking at someone else to blame too. Like, what the fuck is with that ball? What kind of fucking shape is that? I DEMAND TRAPEZOIDAL PARALLELOGRAM SHAPED BALLS. I can't decide how the refereeing community will take this blame – they might all put their whistles away and let the players just beat each other to death, or they will blow penalties on every.fucking.tackle just to prove a point.
Off-off-field, the Eels have joined the ranks of the Dogs and the Storms in their dodgy book-keeping skills, and are set to lose competition points for deliberately fucking their salary cap. This has changed them from being a certified "Premiership Contender" to a "they'll probably still make it, to be honest." I am a massive fan of salary cap breaches though, and love hearing about how Newcastle and the Tigers managed to spend excess of a bazillion dollars to keep Jarrod Mullen and Dickfingers Moses from leaving the club.
"Well guys, we just got beaten by 40 points again, but in good news, Mitch is now earning $700,000 a year.
He's probably the most successful kid in his year 11 class."
Or maybe they just need to be smarter about dodgy player payments, like the Cowboys, and don't have "Dodgy Player Payments" as Item 3 on your meeting agenda.
Round 9 NRL tips
Bunnies

vs Tigers
The Rabbitohs have just three wins from the first eight games, which really doesn't bode well for them, but interestingly they are at a similar point as they were in 2014 – the year they won the premiership. However, if they can't beat the Tigers this week, they might as well kiss the rest of the season goodbye. It would be nice if at least one player (from either team) put in somewhere near a 70% effort.
Parra

vs Doggies
The Dogs struggled all the way against the Titans last week, and while the Eels let the scoreline blow out against the Cowboys, they are still my secret crush team at the moment. Basically because of Semi Radradra and Junior Paulo. Fucking hell, what were Paulo's parents thinking when they named him? The guy is about 12 feet tall and weighs as much as six elephants. Junior? Please.
Panthers vs

Mighty Fucking Raiders
Penrith have made a habit of losing games by two points in the 79th minute this year. This week, that will all change as the Raiders put them away as early as 75 minutes in. Incidentally, this game marks only the second time that the Penny's spine has played together in the last 40 games. I guess it's also the first game since about 1912 that they have put a "full strength" side on the field. Penrith will be too busy doing group introduction exercises to worry about football this week. From last week's demolition of the Tigers, Canberra would have learned that tackling = good and scoring = better. Raiders by a dozenty.
Chooks

vs Knights
The Roosters welcome back perennial cunt Mitchell Pearce from suspension and Jared Waerea-Hargreaves from injury for the first time this year. After losing to St George, they will have something to prove – my tip goes to them, but I'd fucking love for them to lose again, especially to fellow shit-dwellers Newcastle. No offence, Knights, but you guys are the suckiest sucks who ever sucked. Damn weiner Knights.
Manly vs

Cowbs
Well, it will be (mildly) interesting to see if Jamie Lyon's retirement announcement will inspire his troops to perform for about 20 minutes before they fall in a heap and the Cows trample them like the demon bovine assassins that they are. This match is pretty close to the "No Fucks Given" game of the round. But I'll save that one for…
Warriors vs

St Merge
THIS PIECE OF SHIT gets the official "No Fucks Given" match of the round. I'd be surprised if the ref even bothers to turn up. Here are some things that people would rather do than watch this game: sit next to Grant Hackett on an international flight; watch Daryl Somers' new show; have a drink with Todd Carney; get Tara Brown to pick up their kids for them. For those who do choose to watch, get ready to see the ball do more metres on the ground than most of the players.
Titans vs

Storm
Normally when people go to the Gold Coast to see a pair of tits, they usually don't mean the two Titans fans in attendance. This year, the Storm are sloppy; the halves are easily confused and consistently panic with the ball, the outside backs are either rocks or diamonds, and their forward pack is mainly made up of giant Kiwis. It's almost like the Warriors, but the Storm actually manage to occasionally win games.
Sharks vs

Horses
I love how no matter which sponsor has the rights to Cronulla's home ground, it's always just called "Shark Park." When the ground is full, they put up a sign on the front gate that says "Fuck off, we're full." Instead of buying tickets to get in, you can show your Southern Cross pec tat, 'Such is Life' script across your neck tat, or the "Aussie-flag-busting-through-skin" shoulder tat to gain entrance. But anyway – about the footy. If the Avengers came up against Brisbane right now, they would lose. If Elvis was ever as good as them right now, they would have renamed Earth in his honour. Milford and Hunt are supernatural. Corey Oates' official residence is "Over the try line." Brisbane will stop dominating when they are good and ready. And they aren't ready just yet.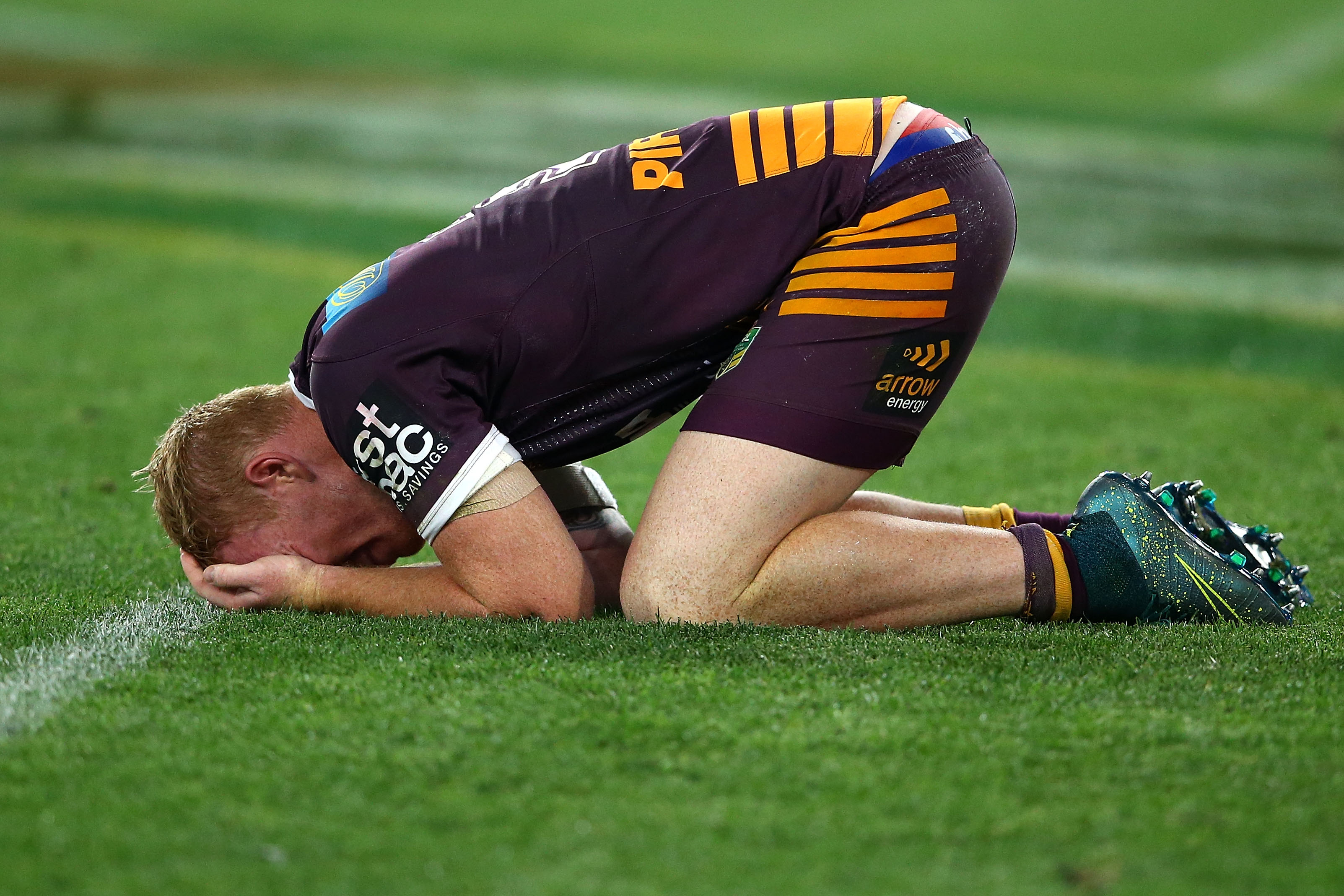 If Brisbane are the Avengers, Jack Reed is Hawkeye