It has been a long, long off-season for NRL fans. We've tried to fill that void in our lives with three forms of cricket, NFL, tennis, soccer and golf (I was pretty hungover and couldn't reach the remote control), but to no avail. Some have even gone to the extreme of watching rugby union, and marvelled at the amazing skill of at least two players who could kick the ball into the seventeenth row of a grandstand and then clap themselves for it.
But for the more civilised among us (the league fans), the wait is over. No longer do we need to try and replace this glorious game with weak imitations of "well I guess you might call it" sport. Our heroes are back on the field, and by fuck did we miss them.
Like Mitchell Pearce, who returns from "rehab" to sit on the bench for the next twelve weeks, or hopefully in time to play the Bulldogs.
The Bulldogs are back to promise it all and deliver little (will that change this year? Mbye, Mbye not), and to confuse everyone by playing the Morris twins on the same side of the field.
Sam Burgess is back from sitting on the bench (clapping) to fuck some shit up with his monstrous head. The other Burgesses are back to just fuck up and ride some coat tails, mostly for other clubs.
Parramatta are back and have fielded a surprisingly strong side for the year, bolstered by the career-ending injury to Anthony Watmough during the off-season. Running sideways slowly and missing tackles are officially 2015 trends.
Matt Moylan keeps saying he'll be back, but is probably happy to sit back and be pretty and earn a shit tin from Penrith for not playing. In the meantime, Will Smith will be playing fullback. WILL SMITH, everybody. Nobody? Fuck you all. No, fuck you.
Ray Warren is back for a final year to basically ignore the game he's commentating to talk about Percy Fairall, the fearless St George forward from the 1930s. Sterlo is back to confuse Michael Jennings with every other black player in the competition.
Greg Bird is back so we can hate someone with enough passion that he might as well play for Manly. Manly is back so we can wonder exactly what Jamie Lyon is doing there, and then wonder if we actually like Jamie Lyon or not. The Roosters keep wondering why people hate Manly more than they hate the Roosters. Me too, Roosters. Me too. Stupid Manly though.
Jonathan Thurston is back to laugh at unfunny things to make them funny. The rest of the Cowboys are probably also back for the season, but no one really knows who they are.
St George will return to spectacularly underwhelm even themselves, at the same time keeping the tattoo:not tattooed skin ratio well in favour of the tatts.
Cameron Smith is back to ensure we all know why he is right and how everyone else is out of touch. Billy Slater is back to remind us of how good he once was and how a "nice guy" can still be one of the dirtiest players in the league. Those players won't kick themselves in the face, Billy.
Ricky Stuart is back to reignite the "I can kick a chair further than you" contest with Josh Reynolds.
Speaking of coaches, they're (kind of) all back as well – at least for Rounds 1-3, when the new season of the controversial new reality TV series "Frankenstein's coach" begins, starring Trent Barrett and Andrew McFadden.
Edrick Lee is back to look a lot more impressive than he actually is, but that's fine because he'd probably kick the shit out of me if I actually said that to him.
Sam Thaiday is back, but only after Corey Parker and Josh McGuire get there first.
Aaron Woods is back, hey man? …yeah. Like… yeah.
Paul Gallen is back to ensure that each game is won or lost in the forward line and fuck up another Sharks' season. It's a bold strategy for a captain to take.
Konrad Hurrell is back to remind us that he's built like a fridge and moves just as gracefully. Shaun Johnston is back. That's all that matters. I love you, Shaun.
Newcastle are back. Yay, I guess.
The Titans return for another year to give every fan a chance to say "well, it could be worse." Obviously except for the Titans fans, but they don't really have any.
The referees are back to make sure that the video ref is the most overworked man in Australia and the touch judges just don't matter.
And I am back to take you through another season of NRL, to take you to the prescription drug highs of South Sydney to the dog-fucking couch-pissing lows of the Roosters. The who's who, the what's that, the fuck off you fucking fuckwits – I'll be with you most steps of the way except for when I'm away or couldn't be fucked and stuff. You know, kind of like how Josh Papalli plays.
Round 1, bitches
Parramatta vs

Brisbane
Despite a much-improved line-up, the new boys at Parra will still struggle against a Brissy outfit still pissed off about losing the granny and having half their squad booted from the emerging Origin stars camp for being fuckwits.
Manly vs

Canterbury
You're not meant to tip against Manly at Brookvale, but it's Manly, so… you know.
Canberra

vs Penrith
Should be no fucking problem for the Mighty Fucking Raiders to get their premiership charge started with a thumping win by at least 8 points. Put a sneaky fiver on Boyd and Vaughan to cross the stripe.
Tigers vs

Warriors
The Warriors are my bolters for a top-four spot this year. The Tigers… yeah, not so much.
North Queensland

vs Cronulla
You know, I still don't think I rate North Queensland that much, despite them winning the NRL and the Super League challenge, and defeating Thanos and Ultron in the off-season. But apparently they're quite, quite good.
Roosters vs

Souths
The Chooks had a pretty shit off-season, losing half a dozen players to other clubs, domestic violence charges and dog-fucking allegations. Souths had a pretty shit year last season, but I have a funny feeling they'll bounce back a whole lot better than the Rooters.
Gold Coast vs

Newcastle
Fuck, this is what the NRL have decided is a Round 1 season-opener? I think Sport will be the winner here.
Melbourne

vs St George
I don't see the Storm as contenders this year – or any year, really; even the years that they won – but I see St George even less so. Let's just hope no one gets hurt, outside of Billy Slater and Josh Dugan. Oh alright, and Will Chambers.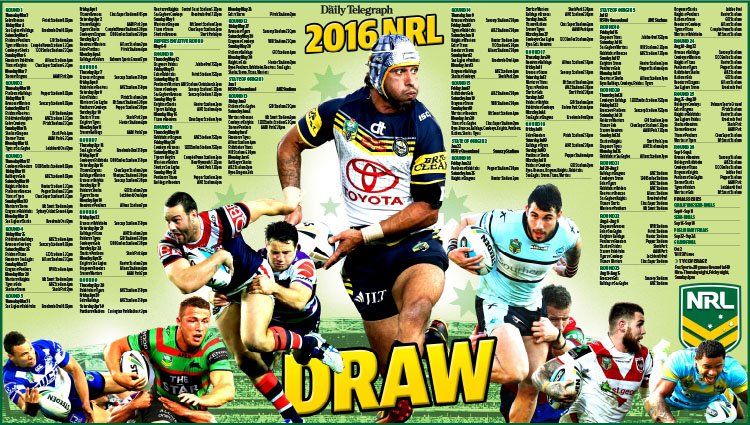 If you squint, you might be able to read the 2016 draw to see when the Titans play the Tigers. But you'll have to squint pretty fucking hard